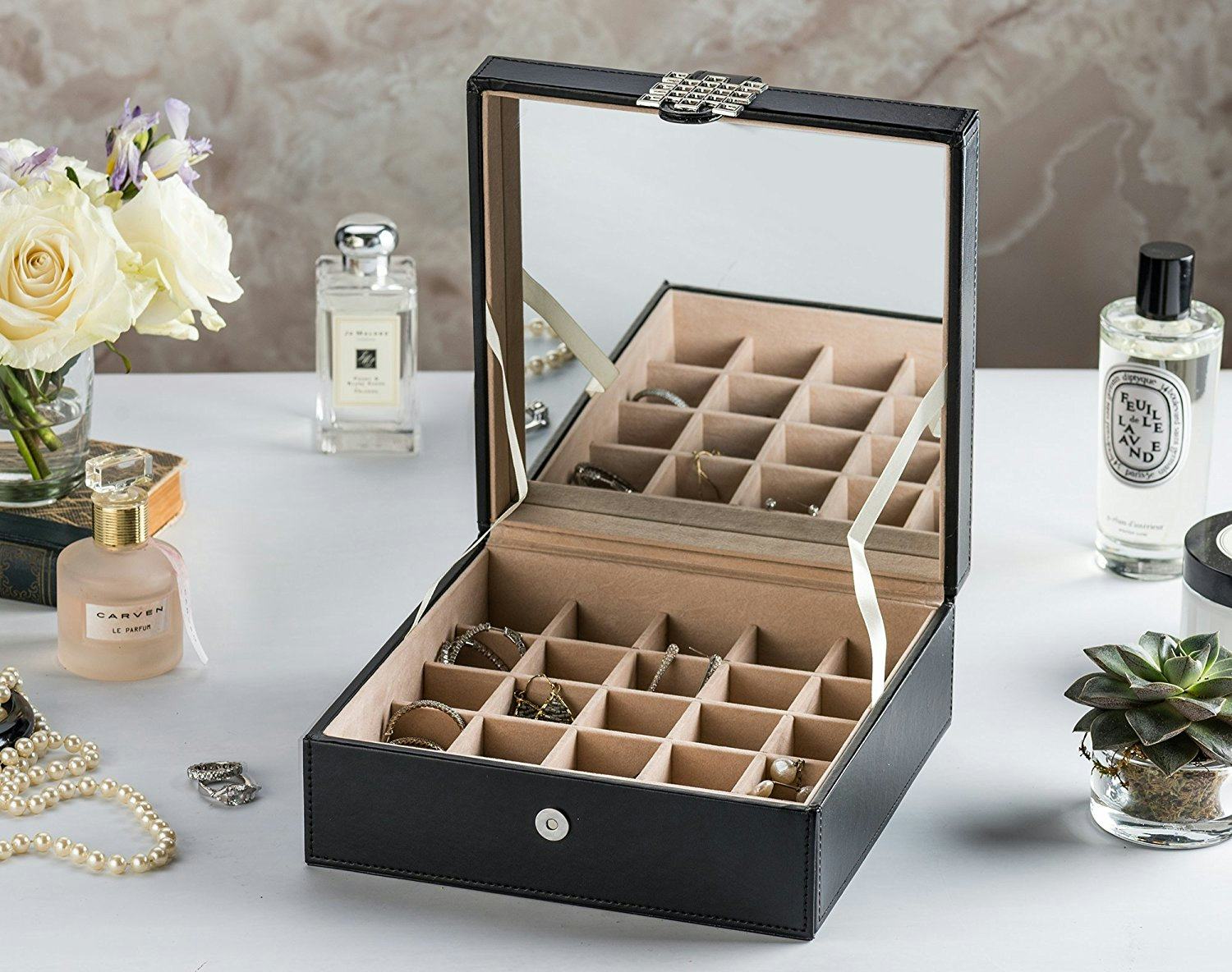 Next time you find yourself attempting to untangle your favorite necklace or find a pair of matching earrings, you'll wish you invested in one of the best jewelry organizers for some much-needed organization a little sooner.
A Guide To Finding The Right Jewelry Organizer:
There are a number of different options out there, so first consider the type of jewelry you wear most often. If you have a lot of necklaces or bracelets, you'll want to go with a standing organizer, or one with hooks, to prevent tangling. Maybe you're a fan of earrings and rings — in this case, opt for a jewelry box that offers compartments (i.e., slotted ring cushions or earring holes) for storing smaller pieces. You'll also want to think about your available space. Wall-mounted or hanging organizers are great for tight quarters; whereas, a free-standing organizer works well if you have tabletop space.
Ready to get all your bling in order? I've compiled a list of the best jewelry organizers, featuring varying price points and styles, below. And while most of these aren't portable, you'll find a couple of the best travel jewelry organizers that are compact enough to fold up and stow in your bag.
1

The Overall Best Jewelry Organizer Considering Functionality & Price

This free-standing chrome jewelry tree by H Potters is an all-in-one option that'll look great on any tabletop. Its tiered bars are perfect for hanging numerous necklaces and bracelets, while its bottom tray provides ample storage for smaller pieces like rings, earrings, or other miscellaneous knick-knacks. Translation: It works for just about any kind of jewelry you have in your collection, providing maximum functionality and style at a decently affordable price.
2

A Budget-Friendly Hanging Organizer For Earrings, Rings, & Bracelets That Travels Well

If you're short on space, Misslo's hanging jewelry organizer is a total game changer. The double-sided storage solution boasts 22 clear, plastic zippered pockets on each side and, as you can imagine, a super portable design. It can be hung and re-hung virtually anywhere, plus its flexible material makes it easy to fold up for travel as well. Simply attach it to the included metal hanger via four snap buttons at the top, and you're good to go.
3

Also Great For Travel: A Convenient Jewelry Carrying Case With Lots Of Compartments

Another travel-friendly option, Lily & Drew's 9-inch by 7-inch carrying case provides roomy jewelry storage in a compact package that zips shut and conveniently fits in any carry-on. Inside its velvet interior, it has six necklace hooks that snap shut (with pouches underneath to prevent tangles), 28 earring holes, two zippered pockets, and a removable zippered pouch for additional storage. Even better, the durable outer fabric is nylon and water resistant.
4

A Large Jewelry Box That's Great For Smaller Pieces

This 50-slot leather jewelry box is ideal for storing smaller pieces like earrings and rings. It has a lift-out tray with 25 compact compartments and another tray underneath with 25 more slots. The soft, velvety interior means your jewelry will be kept safe from scratches, and some of the inner compartments are removable if you want to create more space for larger pieces. Its lid is adorned with a mirror, and thanks to an outer belt with a decorative metal buckle, the whole unit snaps shut for extra security.
5

A Big Jewelry Cabinet With A Full-Length Mirror, Innovative Compartments, & LED Lights

Songmics' jewelry armoire is the most expensive option on this list, but it provides the most storage — in an innovative cabinet-style unit. It can be hung over a door or mounted to a wall at three adjustable heights. Inside, this organizer has six LED lights that illuminate the large variety of compartments: 90 earring slots, a bracelet rod, a ring cushion, 32 necklace hooks, five shelves, 48 stud earring holes, and two drawers. On the outside, it features a full-length mirror and a side lock for added security. It's versatile.

Elite Daily may receive a portion of sales from products purchased from this article, which was created independently from Elite Daily's editorial and sales departments.